Peru Expedition: Trek the Great Inca Road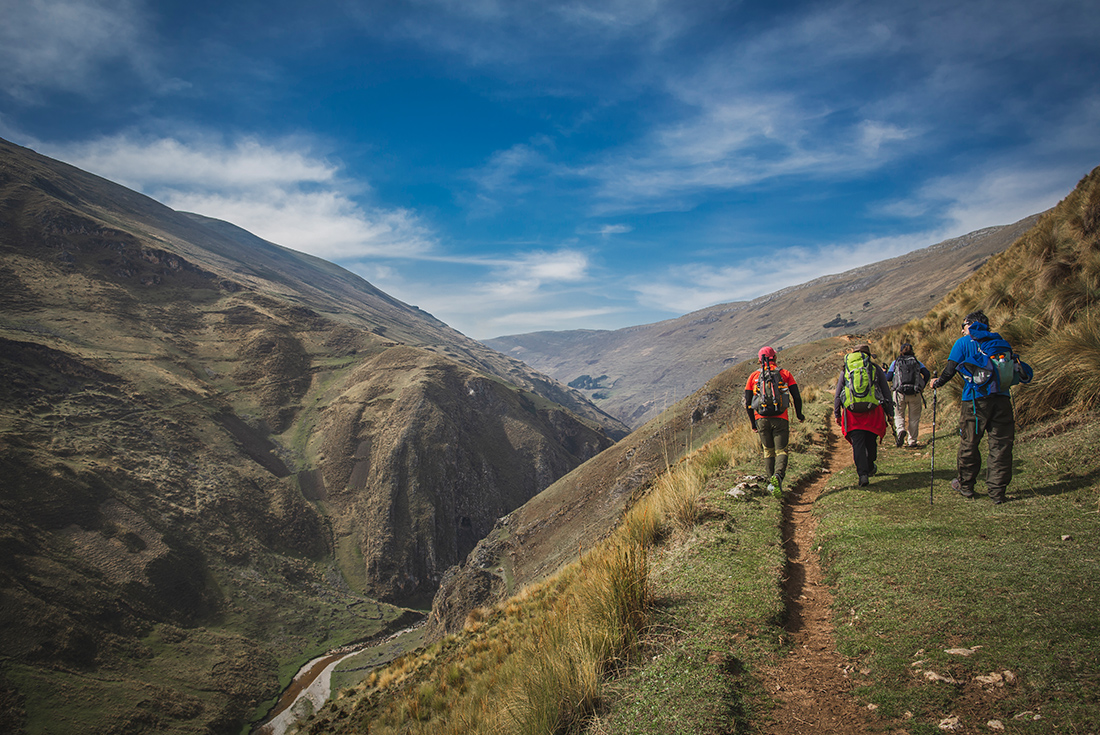 Peru Expedition: Trek the Great Inca Road
You've heard of the Inca Trail, but what about the Great Inca Road? Made up of ancient Inca trade routes cutting through the Andes, the Great Inca Road is every bit as significant and special as its more famous counterpart – it just doesn't have the crowds. On this 12-day trekking expedition you'll join a local leader and traditional llama caravan to hike storied paths that few travellers have ever seen, visiting archaeological sites along the way. To get acclimatised to the altitude, you'll spend time in the adventure hub of Huaraz, hiking the spectacular surrounding landscapes. You'll soon find out it's not called the Great Inca Road for nothing.
Activities
Huaraz: LLanganuco lakes and Laguna 69 guided hike
Huaraz: Laguna Churup guided hike
Huaraz: Pastoruri glacier & Huascaran National Park guided hike
Great Inca Road: Castillo to Soledad de Tambo guided hike
Great Inca Road: Soledad de Tambo Archaeological guided site visit
Great Inca Road: 4 days fully supported (Porters, Llamas, all meals and equipment)
Chavín de Huántar archaeological site guided visit
Great Inca Road: Soledad de Tambo to Quenhuajirca guided hike
Great Inca Road: Meeting with traditional master weaver
Great Inca Road: Quenhuajirca to Tambo Grande guided hike
Great Inca Road: Tambo Grande to San Lorenzo de Isco guided hike
Great Inca Road: San Lorenzo de Isco to Huanuco Pampa guided hike
Great Inca Road: Huanuco Pampa Archaeological site visit
Sacred City of Caral-Supe guided visit
Highlights
Hike on the ancient and little-visited trade routes of the Great Inca Road, taking in seriously spectacular views of the Andes and visiting well preserved yet remote Inca outposts.
Get acclimatised to the altitude in the adventure hub of Huaraz, a low-key city surrounded by mountains, lakes and glaciers waiting to be explored on your included hikes.
You'll not only be accompanied by a local leader on your adventure – a traditional llama caravan will join you on the Great Inca Road, meaning you only need to carry a daypack.
Your hiking journey comes to an end at the incredible Inca site of Huanuco Pampa, where you'll meet a local guide for a private tour of these significant ancient ruins.
Visit the intriguing Caral-Supe archaeological site, left behind by a civilisation pre-dating the Inca and built at the same time as the first Egyptian pyramids.
We get it – travel's a big decision. It's not every day you fly across the world to wander the souks of Marrakech or enjoy a dreamy Angkor sunrise. But for us, it's been our everyday for the past three decades (whew, we're old). Let's just say we know what travellers really want: a balance of inclusions and free time, a mix of classic highlights and local secrets you won't find on Google. And of course, an authentic real life experience.

Our leaders are born and raised in-country, and they know their destination better than anyone. So you'll do more than just see a place, you'll live it. Small groups, big adventures and responsible travel – that's our thing. With 1,000 trips in a variety of styles across 100 countries, we're sure you'll find something you like. So let's get started.

1. Real life experiences
What is travel but a search for something that can't be Googled? We love the highlights, but the real magic for us happens well away from a beaten path. It's the little noodle bars, hidden galleries and backstreet bodegas and real life experiences you won't find in a search engine.

2. Connected by travel
The beauty of small group travel isn't just new places, it's new perspectives. It's the stories you hear and the friendships you forge, the ones that stick around long after the tan has faded. Our travellers come from all walks of life; what unites them is where they're going.

3. Travel works best when it's balanced
Time is your most precious resource, especially on a holiday. That's why our trips are built with balance in mind. A little group time, a little you time – the way it should be. And because our tours have an average of just 10 people, there's more of the world to go round.

4. With great travel comes great responsibility
The world's a pretty amazing place, and we want to do our bit to keep it that way. And all it takes is a little dash of self-awareness, a slightly softer tread. Sustainable travel doesn't mean no fun. It means that fun can be used to benefit others. Respect.

5. Adventure should be for everyone
Age, pillow preference, budget, travelling solo or together – it doesn't matter where you're from, what matters is where you'd like to go. Our mission is to deliver the best travel experiences to anyone who's up for them. So no matter if you favour a soft landing or a wild take-off, Intrepid stands for you.

6. Our leaders are the greatest
We realised early on that the best folks to show you the heart of a destination are, funnily enough, the ones that live there. These are our leaders: travel experts and friendly locals who know their countries back to front, from every backstreet bar to every hidden gallery. They're the big, smiling face of Intrepid (and we couldn't be prouder).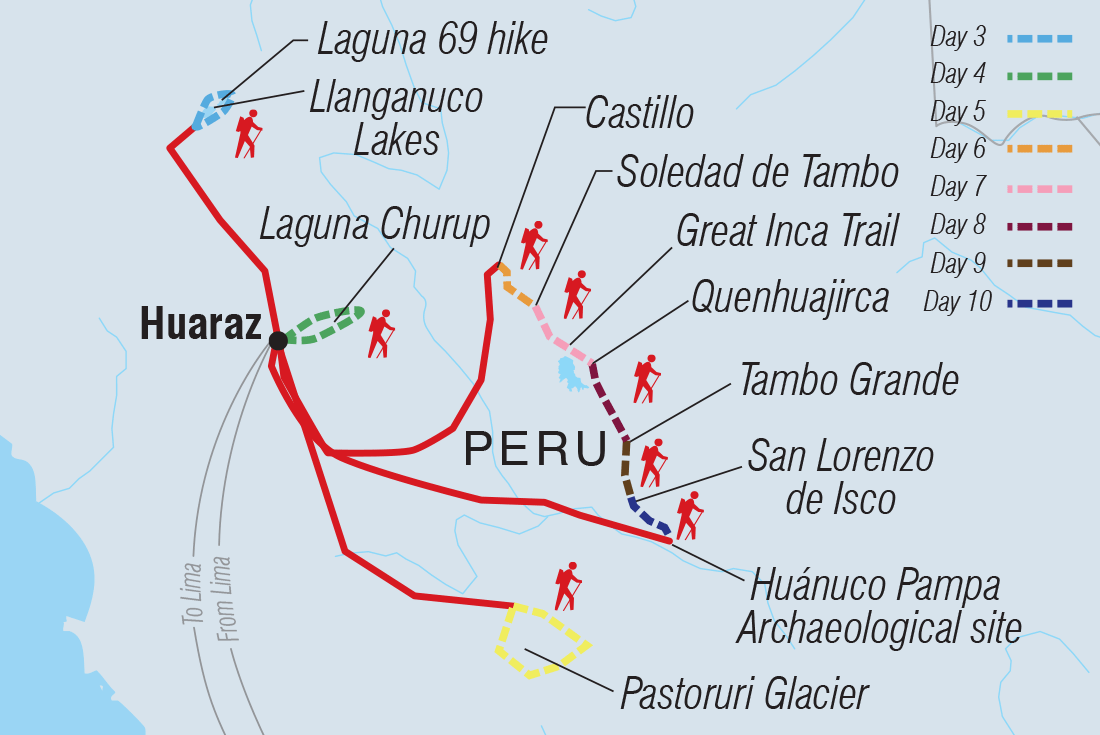 Day
Destination
1
Lima
2
Lima to Huaraz
3
LLanganuco lakes & Laguna 69 hike
4
Laguna Churup hike
5
Pastoruri glacier hike
6
Great Inca Road: Castillo to Soledad de Tambo
7
Great Inca Road: Soledad de Tambo to Quenhuajirca
8
Great Inca Road: Quenhuajirca to Tambo Grande
9
Great Inca Road: Tambo Grande to Isco
10
Great Inca Road: Huanco Pampa
11
Huaraz to Lima
12
Lima